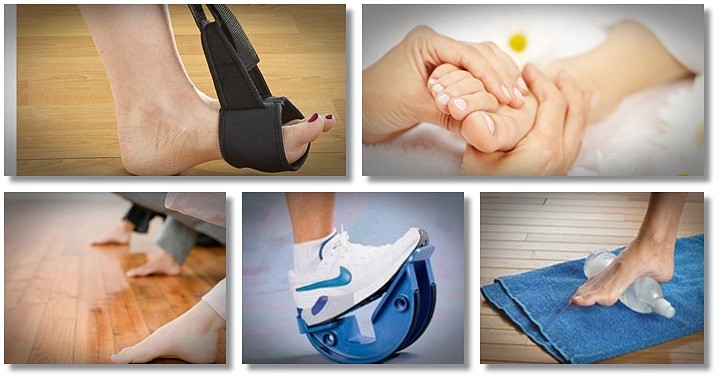 Overview
The plantar fascia is a band of connective tissue that runs along the sole from the heel to the ball of the foot. One of its main roles is to keep the bones and joints in position. Bruising or overstretching this ligament can cause inflammation and heel pain. A common cause is flat feet, because the ligament is forced to overstretch as the foot spreads out and the arch flattens. The pain may be worse first thing in the morning or after rest. In many cases, plantar fasciitis is associated with heel spur. The plantar fascia tears and bleeds at the heel and, over time, these injuries calcify and form a bony growth.
Causes
Under normal circumstances, your plantar fascia acts like a shock-absorbing bowstring, supporting the arch in your foot. If tension on that bowstring becomes too great, it can create small tears in the fascia. Repetitive stretching and tearing can cause the fascia to become irritated or inflamed.
Symptoms
The most common symptom is pain and stiffness in the bottom of the heel. The heel pain may be dull or sharp. The bottom of the foot may also ache or burn. The pain is often worse in the morning when you take your first steps, after standing or sitting for awhile, when climbing stairs, after intense activity. The pain may develop slowly over time, or come on suddenly after intense activity.
Diagnosis
Your doctor will perform a physical exam to check for tenderness in your foot and the exact location of the pain to make sure that it's not caused by a different foot problem. The doctor may ask you to flex your foot while he or she pushes on the plantar fascia to see if the pain gets worse as you flex and better as you point your toe. Mild redness or swelling will also be noted. Your doctor will evaluate the strength of your muscles and the health of your nerves by checking your reflexes, your muscle tone, your sense of touch and sight, your coordination, and your balance. X-rays or a magnetic resonance imaging (MRI) scan may be ordered to check that nothing else is causing your heel pain, such as a bone fracture.
Non Surgical Treatment
Heel cups are used to decrease the impact on the calcaneus and to theoretically decrease the tension on the plantar fascia by elevating the heel on a soft cushion. Although heel cups have been found to be useful by some physicians and patients, in our experience they are more useful in treating patients with fat pad syndrome and heel bruises than patients with plantar fasciitis. In a survey of 411 patients with plantar fasciitis, heel cups were ranked as the least effective of 11 different treatments.
Surgical Treatment
Most practitioners agree that treatment for plantar fasciitis is a slow process. Most cases resolve within a year. If these more conservative measures don't provide relief after this time, your doctor may suggest other treatment. In such cases, or if your heel pain is truly debilitating and interfering with normal activity, your doctor may discuss surgical options with you. The most common surgery for plantar fasciitis is called a plantar fascia release and involves releasing a portion of the plantar fascia from the heel bone. A plantar fascia release can be performed through a regular incision or as endoscopic surgery, where a tiny incision allows a miniature scope to be inserted and surgery to be performed. About one in 20 patients with plantar fasciitis will need surgery. As with any surgery, there is still some chance that you will continue to have pain afterwards.
Prevention
Maintain a healthy weight. This minimizes the stress on your plantar fascia. Choose supportive shoes. Avoid high heels. Buy shoes with a low to moderate heel, good arch support and shock absorbency. Don't go barefoot, especially on hard surfaces. Don't wear worn-out athletic shoes. Replace your old athletic shoes before they stop supporting and cushioning your feet. If you're a runner, buy new shoes after about 500 miles of use. Change your sport. Try a low-impact sport, such as swimming or bicycling, instead of walking or jogging. Apply ice. Hold a cloth-covered ice pack over the area of pain for 15 to 20 minutes three or four times a day or after activity. Or try ice massage. Freeze a water-filled paper cup and roll it over the site of discomfort for about five to seven minutes. Regular ice massage can help reduce pain and inflammation. Stretch your arches. Simple home exercises can stretch your plantar fascia, Achilles tendon and calf muscles.